November 17, 2023
Exploring Uncharted Territories: EGS Australia Selects Videosoft Global Solution for Hydrographic and Geophysical Surveying
Videosoft Global, a leading provider of real-time video streaming solutions, has partnered with EGS Australia to revolutionise remote operations in the hydrographic and geophysical survey sectors. By leveraging Videosoft Global's cutting-edge technology, EGS Australia can now carry out offshore activities using live video streaming from their vessels, ensuring seamless communication and accurate monitoring of survey operations.
EGS Australia, renowned for its professional excellence in hydrographic and geophysical surveying, serves key industries including Oil and Gas, Renewables, Telecommunications, Ports and Harbours, and shipping. Thanks to our integration of Videosoft Global's cutting-edge adaptive video compression and transmission protocols, we can now provide uninterrupted and reliable streaming of real-time video. Even in ultra-low bandwidth environments, which used to pose a challenge to conventional streaming norms, we ensure consistent quality.
Revolutionising Maritime Operations
This ground-breaking capability allows EGS Australia to provide custom-tailored solutions to its clients, meeting their specific needs with unparalleled accuracy and efficiency.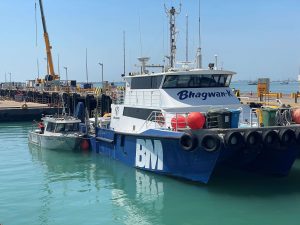 The recent software trial of the Videosoft Global solution demonstrated exceptional results as EGS Australia successfully utilised the technology over the Starlink network on one of their smaller manned 25-metre vessels, the Bhagwan K which is currently engaged in inshore mapping and survey work along the Australian coast. Commissioned by the Navy, the Videosoft solution enabled EGS Australia to achieve:
Real-time progress updates to clients
Enhanced control and communications between onshore and offshore teams
Reduced offshore personnel and substantial cost savings
Streamlined workflows leading to greater efficiency
Real-time monitoring of job progress
Commitment to environmental sustainability by reducing the carbon footprint
EGS Australia's decision to select Videosoft Global as its provider stems from the latter's unmatched expertise and
extensive track record in delivering ultra-low bandwidth video streaming solutions.
Videosoft Global's hardware and network-agnostic approach ensures seamless streaming across land, sea, and airbased assets, including satellite, cellular, and wireless links. With their bespoke offerings, Videosoft Global continues to empower customers operating in remote locations across various industries.
"Incorporating Videosoft Global's cutting-edge trial technology into our vessels has far surpassed our expectations. The trial impressed us such that we have decided to fully adopt Videosoft Global for all our upcoming USV projects. Our journey begins in November with the highly anticipated launch, where the maiden mission of our USV will play a pivotal role in our commissioned Navy operations."
Charles Collins, Chief Surveyor at EGS Survey Pty Ltd (Australia)
"After extensive testing, we can confidently affirm that your software stands out for its exceptional usability. Its user-friendly design and intuitive interface truly set it apart in our evaluations.

We were particularly impressed with the software's remarkable adaptability when it came to frame rate and resolution. Even under challenging conditions, such as a minimal bandwidth of 10kbps via the Iridium satellite network, your software managed to deliver a moving image. This speaks volumes about your software's resilience and flexibility.

We deeply appreciate your commitment to delivering a top-tier product and giving us the opportunity to conduct this testing. We eagerly anticipate potential collaborations and further advancements in your software down the road."
Sylvain Esclapez, Hydrographic Surveyor at EGS Survey Pty Ltd (Australia)
The Obvious Provider: Unlocking a Wealth of Advantages
After carefully evaluating various alternatives in the market, EGS Australia has determined that Videosoft provided the best performance for their use case. Several key advantages have greatly influenced this decision-making process, leading to the selection of Videosoft as the preferred provider solution.
Easy to install, up and running with ease
High quality, cost-effective solution
Geolocation support- allowing the users and their clients to access content from around the world, on their own terms
The ability to access and stream multiple videos at once without any latency issues
Robust security measures are in place that protect user data and ensure compliance with industry regulations
Customisable video streaming solutions tailored to meet individual's needs
Support for a wide range of video formats and codecs
The ability to scale up or down as per the user's needs
"We are thrilled to partner with EGS Australia, a leader in the hydrographic and geophysical survey sectors," said Iain Janes, EMEA Business Development Manager at Videosoft Global. "Together, we are driving innovation and connectivity, enabling EGS Australia to stay at the forefront of their industry and deliver exceptional value to their clients".
Discover how EGS Australia partnered with Videosoft to revolutionise hydrographic and geophysical surveying operations with real-time video streaming solutions.
Explore our collaborative journey and unlock new possibilities for your business.
Connect with our team today to request a Demo and experience the future of surveying technology.